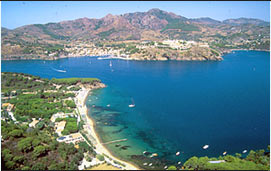 Hotel La Voce del Mare
Spiaggia di Naregno
57031 Capoliveri
Isola d'Elba (LI)
Tel. +39 0565 968455
Mob. 329 4132081
Wint. +39 0565 968849
Fax +39 0565 935924
Cookie Policy
Privacy Policy
Island of Elba: Porto Azzurro

The town, 3100 inhabitants, lies in a protected bay of the golf of 'Mola', which was used since ever as a natural port of call on the nautic routs of the Tyrrhenian Sea.

In the beginning of the 16th. century, it was the Spaniards, who, under the recomandation of the Genoese admiral Andrea Doria, planned to build a fortification on the eastern side of the gulf in order to close the bay.

Together with the fortress 'Focardo' on the other side, this became the defensive system of the gulf, base of Filippo III's fleet. This defensive system was made to contain the military raise of the grand duc of Tuscany, who, with the fortifications of Portoferraio, owned a strategic stronghold in the Tyrrhenian Sea , from which he was able to seriously endanger the Spanish interests in this part of the Mediterranean Sea. The city was attached to the reign of Naples in 1714 until 1801, when it was left to the French who occupied the whole Tuscany.

In 1815, after the fall of Napoleon, it was again attached to the grand duchy of Tuscany, until the unification of Italy.

During the 18th. and 19th. century, together with Portoferraio and Marciana Marina, Porto Azzurro was one of the main fishing centers of the island, with a strong immigration of fishermen from Naples, Ponza and Genoa.

The small town center is very beautiful with its narrow roads, stone houses, enchanting angels, corners and squares, and the large, vivid mail square directly on the sea and the harbour.

To visit are: the Church of Madonna di Monserrato, built during the 17th. century by the spanish governor Leon. The immage of the Virgin still conserved in the church, is said to be an identical copy of the one one can see in the church in Spain with the same name. The fortress of S. Giacomo, the prison's headquarters, a spanish fortress built during the 17th. century: sales of very interesting handicrafts. The Spanish Church (Chiesa Spagnola) with a marble statue of the general Diego D'Alarcson.

In the territory around the city, a part a vivid tourism, exists today a non neglectable agriculture (fruits and wine) and in the surroundings one can admire beautiful cultivated fields, specially in the valleys of 'Mola', 'Montserrato' and 'Reale'.
Marketday: Saturday.