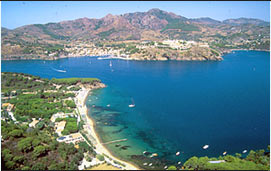 Hotel La Voce del Mare
Spiaggia di Naregno
57031 Capoliveri
Isola d'Elba (LI)
Tel. +39 0565 968455
Mob. 329 4132081
Wint. +39 0565 968849
Fax +39 0565 935924
Cookie Policy
Privacy Policy
Island of Elba - Our hotel: the beach of Naregno

The Naregno beach, sand and pebbles, is approx. 500 meters long, with an eastern orientation.
It is therefore a large beach with good services. On the left side a small pine wood gives some shade during the hotest hours of the day and in front of the beach you can admire the Porto Azzurro bay.

On the beach you can also find sand-lillies, once to be found everywhere, today rare because of the dense human presence.

During the high season the beach is linked with Porto Azzurro during the whole day with a motor-boat shuttle service, very useful for those who wish to visit the village or do some shopping.

A private beach is available only for our clients and it's equipped with umbrellas, deck and sun chairs, shower and plays for children.



The beach is well equipped with a bars, restaurants, beachbaths, markets. I the very center of the beach lies the 'Centro Velico Naregno' sailing center, offering sailing lessons and boat and 'pedaḷ' rentals.



The Naregno beach is the ideal departure point for boat excursions along the 'Costa dei Gabbiani' , situated on the south-eastern part of the island, dominated by the Calamita mountain. It is probably the less frequented and most salvage part of the the island of Elba, with numerous small creeks, isolated beaches, cristal clear waters full of fishes. This area was an old iron mining area.